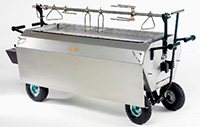 Cook up a feast for the masses with our modern take on traditional spit roasting. Our stainless steel spit pole comes with a 240v motor and can hold a staggering 80kgs of hog in one go! This brilliant addition to our hog roasting equipment will add drama to the catering of any event. Watch as guests delight in the raising and carving off the whole hog in particular.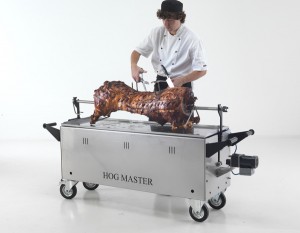 The user can monitor the cooking through the toughened glass viewing panel whilst the temperature can be adjusted as needed using the thermostatically controlled burners that run the length of the machine. For carving, lift the meat using the support bars provided and get ready to be greeted by the delicious smells of crackling! Our large carving tray is put beneath to catch your meat following carving and can be used as a hot plate to keep the meat hot and juicy before being dished up or popped into floury buns.
Our spit roast pole really makes the most out of our Platinum roasting machines. For a demo, visit our showroom. For more info, give us a call to discuss our products in more detail. With over 50 years in hog roasting, we are more than happy to help.