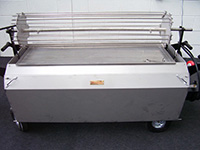 Try something different with your pig roast machine, using our chicken spit kit you can cook roast chicken, and a lot of it! This accessory can hold and roast up to 36 chickens in one go. A brilliant and simple way to feed hundreds of guests. It can also be used to cook turkeys, pork legs and beef joints in the spit style.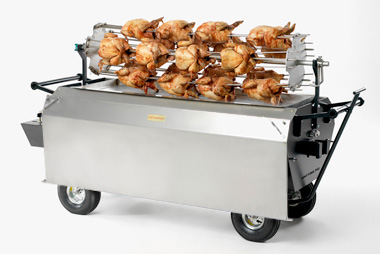 Our chicken spit works using the spit roast kit pole and 240v motor but it features a unique 5 arm rotisserie which can be dissembled one arm at a time for carving, making it easy to remove each carcass without losing the theatre of the whole gadget. Beneath the chicken spit a carving tray to catch your trimmings and keep them hot before dishing up.
Produced from stylish stainless steel, the chicken spit kit is another professional accessory to add to your catering set-up and it's really easy to use too. With over 50 years in catering behind us, we've designed all our equipment to be straightforward to master, even by a novice chef.
Get ready to treat your clients to the taste of succulent spit roast chicken. Get in touch to discuss this product in more detail.